A TOP-RATED RESTAURANT IN THE
WILLIAMSBURG AREA
Voted Top Ten Burger in
Iowa 2019
SEE WHAT EVERYONE IS RAVING ABOUT!"
Our family-owned establishment boasts some of the best-tasting American food around. See what everyone's raving about! Our extensive menu offers something to satisfy all ages and tastes at our classic local American restaurant. In addition, we have a huge selection of delectable desserts, gluten free menu options, as well as daily specials. We also serve breakfast all day.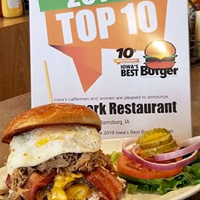 CONTACT US FOR ALL YOUR CATERING NEEDS
Landmark Restaurant is located on W. Evans St Williamsburg, IA. Just off of Interstate 80 at Exit 220. Directly across the street (West) from the Outlet Shopping Mall.